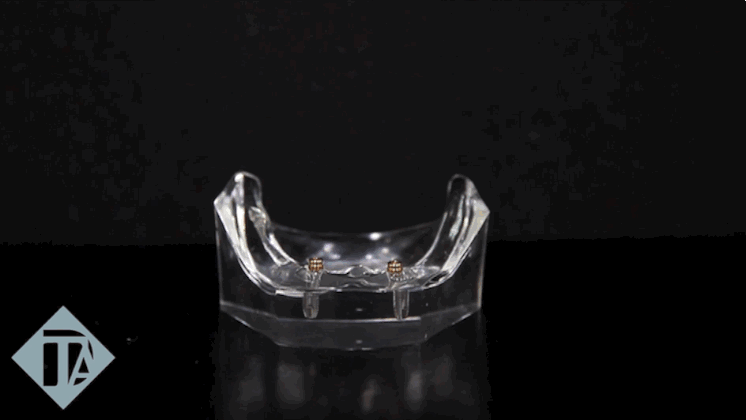 What are Implant-Supported Dentures?
Loose dentures no more! Dental implants can be used to hold and retain removable prosthetics. These prosthetics, known as implant overdentures, are recommended if you are missing all of the teeth in your lower or upper jaw but still have enough healthy bone structure to support implants.

Once we conduct a comprehensive evaluation and determine that you are a candidate for implant overdentures, we will place implants at ideal locations in the jaw and give them time to integrate themselves into the bone, like natural tooth roots. Once fully healed, we will add custom snaps to the prostheses to which your denture will be attached. These dentures can be secured to your new implants and are very easy to remove and cleanse.
Just like with conventional dentures, we will want to see you for follow-up visits and make any adjustments necessary while you adjust to your new, secure smile.
The benefits of implant-supported dentures include:
Patients can properly chew their food once more, which allows for a better diet and improved health.
Patients will be better able to enjoy formerly forbidden foods, such as corn on the cob, steak, and apples.
Improved speech and self-confidence.
Increased comfort and less likelihood of gum tissue irritation.
Eliminates the cost and hassle of purchasing/using denture adhesives.
An existing denture often can be retrofitted to snap onto the dental implants.
Implant placement is a minimally invasive procedure.
Tewksbury Dental Associates offers teeth in a day, a popular type of implant-supported dentures. Please visit our Teeth in a Day page for more information.
Take the Online Implant Evaluation
Start your journey to a beautifully restored smile by calling our office today, 978-851-7890, to schedule an appointment for a consultation and evaluation. You can also request an appointment online! Serving the Greater Boston communities of Andover, Billerica, Chelmsford, and Wilmington, Massachusetts our dentists and experienced staff are happy to answer your questions.
Content Reviewed and Approved by Dr. Nahata.
Dr. Nitish Nahata is an accomplished dentist who recieved his doctorate in dentistry at Tufts University School of Dental Medicine and has honed his skills through years of practice in the North Shore and Merrimack Valley areas. As a member of the American Dental Association, the Massachusetts Dental Society, and the American Academy for General Dentistry, Dr. Nahata regularly participates in continuing education courses to enhance his knowledge and well-versed in the latest techniques and industry best practices.