Fresh Breath and White Teeth Need Help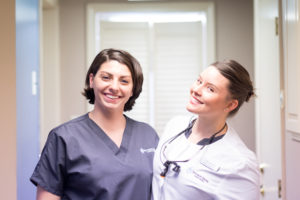 The team at Tewksbury Dental Associates in Tewksbury know proven ways to build new, healthy habits. Serving the Greater Boston communities of Andover, Billerica, Chelmsford, Lowell and Wilmington, Massachusetts. Our hygienists are your preventative healthcare specialists. Each member of our team is a Registered Dental Hygienist and participates in frequent continuing education programs; we want to be certain that you receive the highest quality, state of the art care.
We don't think it helps for us to just keep saying, "You need to brush and floss." We think you need new ideas that will make it easier for you to develop the habits you already know you want to be following—brushing and flossing daily, eating less sugar and more.
We work with you to build a schedule of ongoing care and maintenance that will keep your teeth healthy for your entire lifetime, keep your breath fresh, your heart strong, and your brain sharp.
Why Do You Need Regular Cleanings?
The purpose of a "cleaning" is to get rid of food residue that, if left on your teeth long enough, becomes a yellow film (plaque). It only takes 24 hours for plaque that isn't removed from your teeth to turn into tartar that can't be removed with floss or a brush. This hard substance sticks to your teeth, irritates your gums and promotes inflammation that can damage your heart, brain and other organs. Tartar can only be removed by a hygienist.
The makeup of your individual mouth and saliva also have an effect on the buildup of plaque and tarter, so even people who floss daily will occasionally need professional hygiene care to get back to clean teeth and healthy gums. Though daily home brushing and flossing helps control plaque and tartar formation, many hard to reach areas will always need special attention.
We do more than just clean your teeth. During your hygiene appointment, we also:
Examine your fillings, crowns, and implants to make sure there are no problems
Check the health of each individual tooth
Do a preventative check of your neck, lips, tongue, throat, cheek tissues and gums for any signs of oral cancer
Make recommendations to help you maintain healthy teeth and gums- including toothbrushes, rinses, toothpaste, etc.
Are All Hygienists the Same?
As a team we're committed to providing cleanings and hygiene care that protects your teeth and gums. This is one area where you don't want a quick process. Inadequate cleanings can eventually cause gum and mouth pain, so you want a professional who doesn't skimp and doesn't hurry. But who also keeps you comfortable.
We train to do a great job in as little time as possible, but we set aside the time it takes to be thorough.
How Often Do I Need Cleanings?
Twice a year is a minimum for most people to stay ahead of the plaque and calculus. If you have a mouth that loves sweets or whose saliva is less than cooperative you may get real benefit from scheduling cleanings more often. Hate to floss but want healthy gums and teeth? It might be well worth it to come in more often to stay ahead of problems. Ask a member of our team to help you schedule based on your mouth and life style. Fresh breath and clean teeth don't stay that way without help.
The Tewksbury Dental Team Discusses Teeth Flossing