Removable Partial Dentures and Complete Dentures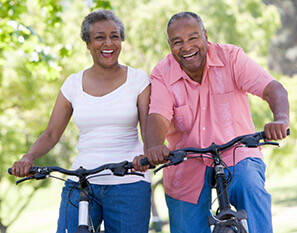 Replacing missing teeth makes you better able to chew your food and this puts less stress on the rest of your digestive system. People with a full compliment of teeth have better overall health.
In addition, replacing missing teeth keeps the remaining teeth in their proper place and prevents shifting and drifting that can contribute to periodontal disease. If a fixed bridge or implants are not an option, Removable Partial Dentures or Complete Dentures can be fabricated to replace missing teeth.
Removable Partial Dentures
A Removable Partial Denture gives you the appearance of a normal smile, stabilizes your bite and allows you to eat with more confidence. It helps keep your remaining teeth healthy and in their proper position while using your remaining teeth for support.
Removable Partial Dentures have two components – the metal framework and the acrylic teeth and gum tissue. Your framework must fit properly to avoid placing damaging pressure on the remaining teeth. Attention to detail is essential.
Removable Complete Dentures
If you are missing all of your teeth, a partial denture cannot be made. If implants are not possible, then a complete denture will be necessary.
Fortunately, the advances in dentistry have allowed more and more people to keep their teeth and the skill and art of making a Complete Denture is less and less common. Yet, a well crafted Complete Denture can look very natural.
If you already have a Complete Denture and would like it to be more stable, you can consider having implants placed beneath the denture. Implants keep the denture from moving and provide the stability that increases your comfort dramatically. You may even be a candidate for multiple implants, avoiding the need for a removable denture entirely. Schedule your consultation today with Tewksbury Dental serving the Greater Boston communities of Andover, Billerica, Chelmsford, Lowell and Wilmington, Massachusetts!