Why You Should Get Same Day Crowns
Tewksbury Dental Associates in Tewksbury offers the Greater Boston communities of Andover, Billerica, Chelmsford, Lowell and Wilmington, Massachusetts same-day aesthetic dental restorations using CEREC technology.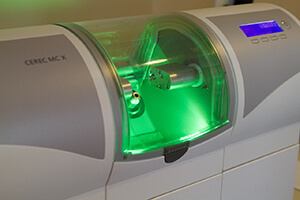 CEREC becomes an in-house, computer-driven laboratory by incorporating 3D digital imaging technology with a milling system that makes it possible for you to get a beautiful, permanent ceramic crown designed, fabricated and placed in just one office visit. The CEREC milling system also is capable of fabricating veneers, inlays, onlays and fixed bridges.
Procedure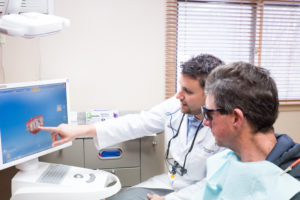 There is no need for goopy impressions when CEREC is involved. Instead, we use an intraoral camera to capture a 3D digital impression of the tooth receiving the restoration. After custom designing your restoration on the computer, we send that data to the milling machine to create your restoration while you wait. CEREC restorations are milled from a single block of high quality ceramic, which increases durability by making the crown less prone to cracks and flaws. The final step is permanently bonding the crown to your tooth that day.
Benefits of CEREC
The advantages of CEREC go beyond convenience to include:
Strength – CEREC restorations are strong enough to be used even on molars.
Compatibility – The metal-free ceramic material is compatible with and expands/contracts in the same way as your natural teeth when exposed to hot and cold temperatures. CEREC restorations eliminate adverse reactions experienced by patients who have metal allergies.
Beauty – CEREC provides a restoration that will be noticed by no one, as we are able to stain and glaze them to match your teeth perfectly.
Proven – CEREC is backed by 20 years of research and millions of successful restorations performed by dentists throughout the world.
Are you a candidate for CEREC?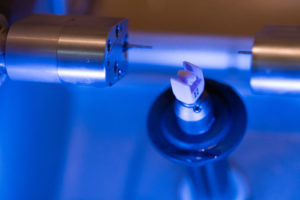 While CEREC is an excellent option in many cases, not every tooth is suitable for a CEREC restoration. If you have a badly broken tooth, or you have tooth decay present below your gum line, we may find greater success with a conventional crown created in a dental lab.
The best way to determine if CEREC's powerful combination of convenience, aesthetics and durability in a painless office procedure is right for you is to schedule an examination. Call us today!