What is Mouth Reconstruction?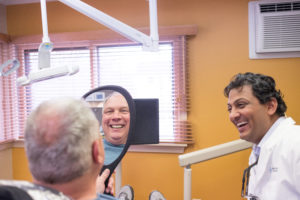 When you want or need a complete reconstruction of your smile or mouth, be certain you choose the right dentist—a dentist who has extensive experience in full mouth restorations—Dr. Nitish Nahata is the right choice. Dr. Nahata's patients say it well:
"Thank you for changing my life. I thought my situation was hopeless. In just a few weeks, I could eat comfortably—and my smile looked great."
"For 20 years, I had been too embarrassed to smile because my teeth were overlapping and crooked. My only regret is that I waited so long."
"I came in because of pain in my jaw and neck. Dr. Nahata fixed my bite, the pain went away—and I got a beautiful smile in the process. I'm so grateful."
If you're embarrassed by your smile, have a painful jaw or teeth, or are facing multiple problems with your mouth, get a solution that considers the condition of your whole mouth and how well all the different aspects work—or don't work—together.
Over the years we've had many patients like you smile comfortably for the first time; some because they are no longer embarrassed about their teeth, some because they are out of pain. And each one got a more youthful smile as a bonus.
How do you know if a complete restoration might be right for you?
Do you have?:
Teeth that are missing and need replacement
Teeth that are worn down or too short
Teeth that are crooked, overlapping or broken
Neck pain, unexplained headaches, or disturbing jaw pain
Advances in dentistry now allow you to change your entire appearance all at once—sometimes it can even happen in one morning. You really can beautify your appearance quickly and easily.
Dr. Nahata's techniques are the most advanced and comfortable you can get. He will talk at length with you and together you will find a solution that will be timely, affordable and comfortable.
What is the Advantage of a Dentist Specially Trained in Full-Mouth Restorations?
Designing an appealing, flawless and healthy smile is an art backed by the latest science. It takes an artistic eye and a passion for perfection. Mastering the evaluation of a wide diversity of dental conditions, planning a careful and progressive approach, and practicing state-of-the-art techniques takes years. But when you smile, Dr. Nahata feels it was all worthwhile.
Dr. Nahata's practice consists of primarily doing very complicated procedures that most dentists do very little of. He honed his reconstruction skills throughout his years as a cosmetic, general and restorative dentist.
But he's not just a talented dentist; you will appreciate how well he listens and individually tailors your treatment plan to your individual needs and desires. Patients value his abilities and artistry so much that they travel from all over New England and New York, and even from overseas, to be treated at his Tewksbury Dental Associates office.
Over the years, Dr. Nahata traveled where ever was necessary so he could study directly with the nation's best full-mouth restoration and cosmetic reconstruction dentists. Even now he continues to take advanced courses in this highly specialized field.
Dr. Nahata creates artful and technically brilliant smiles that have beauty, form and balance. If you're ready to change how your smile looks or just be more comfortable, call our Tewksbury office at 978-851-7890 or email to arrange a personal consultation with Dr. Nahata.
Can You Help Me If Eating is a Problem?
If eating or chewing are difficult, or you have pain, we can help restore your function—bringing you the comfort you deserve.
Many patients are surprised to learn that healthy function, including misalignment and bite problems, can result from missing or damaged teeth. Please keep reading to understand more about this.
What Might Have Caused My Tooth Loss, Broken Crowns and Fillings?
It is possible that your bite is misaligned.
Many experts believe that occlusal (A fancy word for bite—the way the teeth and jaw come together at rest or when you chew.) disease may be the number one cause of tooth loss and filling and crown breakage.
If you answer yes to the questions below, please call for an appointment so we can check your bite and help you take the next step toward feeling better. While correcting their bite, many of
our patients get a much nicer smile as a bonus.
Are your teeth sensitive to hot or cold?
Do you grind or clench your teeth?
Do you have notches on your teeth, especially near the gums?
Do you ever wake up with tired facial muscles?
Do you suffer from jaw pain?
Do your front teeth look thin, worn out or chipped?
Have you ever had teeth or dental work fracture or break?
Do you have unexplained headaches?
Restoring your bite may help relieve any of these symptoms.
Which Procedures Might Be Used in a Full Mouth Restoration?
Of course each person is unique and each situation is different. You and Dr. Nahata will need to meet to discuss you particular needs.
But there are several different options that might be used to improve your comfort and functioning, as well as the appearance of your smile. Depending upon your particular needs, one of the following may be used:
Tooth bonding
Composite tooth colored fillings
Porcelain veneers
Dental bridges
Dental implants
Dental crowns
What Is The First Step?
Each person is different. So you'll start with a conversation about your goals, then Dr. Nahata will look at your teeth and mouth so he can determine what options make sense to solve the problems you want fixed.
You and Dr. Nahata will discuss his assessment and ideas. Together you will decide what would work best for you. Throughout the whole process you are the one who decides, and your opinions will always be respected.
Once you agree on a general approach, we'll make a digital mock-up of your mouth so you'll have a good idea of your final appearance. You'll see the final result ahead of time, including, in most cases, the shape and the color of your new teeth.
Starting this process can feel like a major step, but unless you get all the information you won't have the facts to make a decision that can positively affect the rest of your life. After hearing what is possible, many of our patients tell us they are disappointed they waited so long to find out. We welcome you to call or email us (978-851-7890 or Insert Live Link) to discuss your situation.
Anything Else?
If you'd like to change how your smile looks or just be more comfortable, contact us to arrange a personal consultation with Dr. Nahata. We service the Greater Boston communities of Andover, Billerica, Chelmsford, Lowell and Wilmington, Massachusetts.
If you are hesitant due to concerns about finances, physical discomfort or the time involved, we strongly encourage you to have one conversation with Dr. Nahata. He will address these concerns and partner with you to find a way to make it work—financially, in the most comfortable way, and on your time frame.