One dental implant and crown can replace your missing tooth and allow you to once again smile with confidence. We have worked hard to be able to provide both the surgical and restorative aspects of this treatment right here in our own office.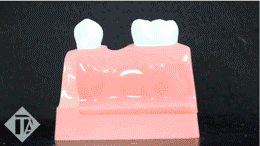 We place the implant – which functions as the missing root – into your jawbone and give it time to heal and integrate into the bone. Besides serving as an anchor for the crown, an implant helps preserve your jawbone by preventing it from reabsorbing.
Once your implant is fully healed, we will fabricate an abutment (post) and ceramic crown that closely matches the color of the adjacent teeth and secure it to the implant. This restored implant not only preserves healthy jawbone, but also helps prevent gum recession on the neighboring teeth, which is a common side effect of having a dental bridge.
The finished product is a restoration that looks, feels and functions exactly like your natural teeth. Even cleaning dental implants is no different than cleaning your natural teeth. You can brush and floss them as you normally would.
Take the Online Implant Evaluation
Why Should I Have a Missing Tooth Replaced?
This is a question some patients ask, particularly if the missing tooth is in the back of the mouth and isn't highly noticeable when speaking or smiling. Replacing a missing tooth has benefits that go beyond aesthetics.
Your teeth depend on each other to maintain their proper position and alignment. A missing tooth creates room for neighboring or opposing teeth to drift out of alignment. When these teeth drift, they often tilt, which creates traps for food and plaque. Additionally, when you bite on these tilted teeth, you put forces on them in non-ideal places, which can lead to increased tooth wear, stress fractures and jaw problems.
If you would like to learn more, read our article titled "5 Benefits of Replacing Missing Teeth with Dental Implants," or call our Tewksbury office for a consultation. Serving the Greater Boston communities of Andover, Billerica, Chelmsford, and Wilmington, Massachusetts. We can evaluate your unique situation and determine if you are a good candidate for implants.
Content Reviewed and Approved by Dr. Nahata.
Dr. Nitish Nahata is an accomplished dentist who recieved his doctorate in dentistry at Tufts University School of Dental Medicine and has honed his skills through years of practice in the North Shore and Merrimack Valley areas. As a member of the American Dental Association, the Massachusetts Dental Society, and the American Academy for General Dentistry, Dr. Nahata regularly participates in continuing education courses to enhance his knowledge and well-versed in the latest techniques and industry best practices.