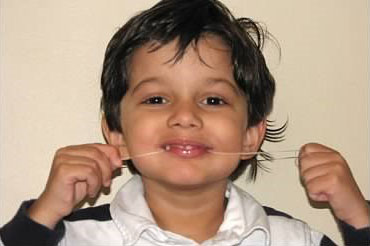 Just as it's important for your children to have a pediatrician or family doctor who helps ensure they are up to date on checkups and vaccinations, it's important to establish a dental home to promote and maintain your children's oral health.
With numerous studies out there that connect oral health to systemic health, establishing good dental habits early on for your children can benefit their overall health as well.
Following are some commonly asked questions about children and dental visits.
At what age do the dentists at Tewksbury Dental Associates see children?
Typically, we see children around 2 to 3 years of age, though we are happy to see them sooner if parents wish. It's a good idea to bring your young children with you to your dental visits so they can get accustomed to our office, and we can gradually introduce them to dental exams.
When should my children begin using fluoride toothpaste and receiving fluoride treatments?
The American Academy of Pediatrics recommends using a small amount of fluoride toothpaste about the size of a grain of rice to brush your child's teeth until about age 3. After that, use a pea-sized amount of fluoridated toothpaste.
We offer fluoride treatments in our office to provide an additional boost of cavity-fighting power, but we generally hold off until we feel the child is capable of spitting out the excess. Usually this is around ages 3 to 5.
My child has a cavity in a baby tooth. Should I have it filled?
Yes. There is a misconception among some parents that because it's a baby tooth and eventually will be lost, there is no need to fill the cavity and the tooth can be pulled instead. Baby teeth serve several important functions, so preserving them until they fall out naturally is important.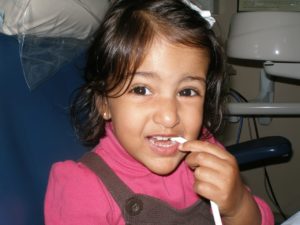 Baby teeth help guide the proper eruption of their adult counterparts when the time is right. They also enable your child to chew properly, which helps them maintain proper nutrition.
An untreated cavity in a baby tooth has the potential to become infected, and affect the underlying permanent tooth's development.
Why does my child need dental X-rays?
Dental X-rays are useful tools for finding problems in teeth and in surrounding bone that can't be seen by the naked eye.
In general, we recommend that children get their first dental X-rays as soon as their last baby tooth comes in. This usually happens at around age 3. Of course, if there is cause for concern before this milestone is reached, we can take X-rays as needed. Moving forward, our younger patients get put on the same schedule as our adults—bitewing X-rays once per year.
In addition to helping us find dental cavities, X-rays can help us determine if your child's jaws and permanent teeth are developing properly, or if early intervention from an orthodontist is needed to help prevent the need for more dental work down the road.
My child gets anxious at doctor's visits. What if he/she doesn't behave in your office?
The doctors and staff here at Tewksbury Dental Associates are well versed in treating anxious patients- children and adults. We feel that building a trusting relationship with our younger patients prior to starting any treatment is paramount to their becoming accustomed to regular visits and care in our office. We work diligently to develop and maintain this relationship, even if it means the first visit or two only involves "show and tell," where we work with children to make sure they are comfortable in our office.
Call today for an appointment
Please call our office to schedule an appointment if you haven't already established a dental home. We treat the whole family, which makes scheduling appointments for you, your spouse and your children convenient. We look forward to seeing you soon.