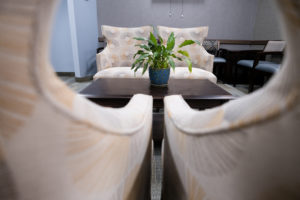 A guiding principle of our dental practice at Tewksbury Dental Associates is how can we be the best? How can our team provide the best care? How can we be the best dentists you've ever experienced? How can we make your dental experience the best in the world? Part of being the best is the willingness to embrace change. Being the best is not the result of crossing a finish line, or reaching an end point. It is really a process of always striving to be better using the very latest technology for diagnostics and planning, finding better methods and treatment options, always moving ourselves forward.
The spacious and modern working conditions in our new location have improved morale and increased our ability to provide services and treatment on a level we could only imagine at the old office. Our new lab was specifically designed and equipped by our team for efficiency and quality. We now have a dedicated meeting space for education events that allows us to learn and grow as professionals. The team and our patients appreciate the ample and safe parking lot as well as the entire practice now resides on the ground level. No more stairs to the treatment rooms! There are also MORE treatment rooms allowing us to better accommodate the busy schedules of our patients.
One of the most exciting additions at our new location is the 3D digital scanner. Because convenience and affordability for our patients is a top priority in our practice, we can now take state of the art 3 dimensional images right at TDA! With all the detail and information these images provide the doctors can more accurately and effectively diagnose and plan the treatment that is best for you. 3D digital imaging has been standard of care for years at our practice but our patients would be sent out for imaging at another location. The headache of extra appointments and expense is eliminated now that we have our own machine onsite.
Our new location has given us the opportunity to achieve a longstanding goal to offer the highest quality dental care available in the world, with the most compassionate providers, all under one roof! Come visit us at 1438 Main Street, Tewksbury today!
Dr Nitish Nahata, DMD