I have a confession to make:  For decades, dentists have been operating at a handicap when it comes to x-rays.  That's right, I'll say it.  The standards of care with respect to radiology in the medical profession surpassed dentistry years ago, when Computer Tomography, or CT scans became commonplace.   CT scans provided a huge benefit over a traditional x-ray in that they allowed physicians to view parts of the body in 3 dimensions.  Images can be rotated, sliced, and viewed from any angle.  However, CT scans were expensive to both practitioners and patients, VERY large (far too big for a dental office), and emitted more radiation than was acceptable for the average dental procedure.
In dentistry most doctors believe that what needs to be seen in your mouth can be diagnosed from a traditional 2-dimensional film.  The areas between and under your teeth, the only parts of a tooth not visible to the naked eye, are revealed perfectly in 2 dimensions.  Bone levels under your gums to diagnose periodontal disease are also visible in 2D.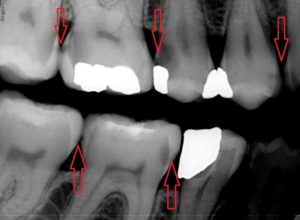 As the field of dentistry progressed however, the need for more advanced imaging became apparent.
Over the last 10 years CT technology has evolved to dramatically reduce the cost, footprint, and amount of radiation with the invention of the digital 3D Cone Beam x-ray specifically for dental patients. With a small fraction of the radiation (100x less!) needed for a traditional medical CT scan, our machine is among the latest and most advanced dental diagnostic tools in the world.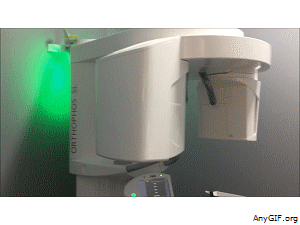 These amazing advances have raised the standard of care in dentistry. Being able to view the jaw in 3-dimensions allows us to take precise measurements before you are even seated in our chair.  It's now possible to plan treatment for root canals, dental implants, and many other procedures virtually on the computer before committing to it in real life.  We now have more knowledge up front, which means fewer complications, improved predictability and ultimately, better results.
The 3D Cone Beam scanner may be new to our office, but it is not new to our practice.  For years, we have been referring patients outside our office to dedicated radiology centers to get these scans done prior to many dental procedures.  These scans cost about $500 and took a few weeks to get back.  Bringing this technology into our new office now allows us to get to get instant results, but we can cut your cost by 50%, which makes necessary treatment that much more accessible and affordable.
Our team is very excited to introduce you to the brand new 3D Cone Beam scanner in our office, and we can't wait to show it to you!
Dr. Zack Goldman