I feel like it was just yesterday that Donna, our Office Manager, mentioned we were going to start transitioning from paper medical histories to digital. As our office grows and moves towards the latest technologies, it only made sense to move patient's medical information into their secure dental chart. And best of all, moving to a digital format would be easier for our patients. Now, patients can complete their medical history once and then only have to update it from there.
I faced the piles and piles of paper records head on! Before I knew it, I was dreaming of names of medications and spending every minute of available time creating digital patient records. After many months and multiple hours each week, the end was in sight.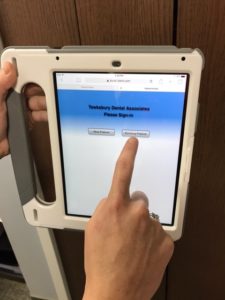 With the move to the new office in August, we are now able to use an iPad when you arrive to record your medical updates. This allows you to take your time, without feeling rushed, to carefully review your information. It is important for us to have accurate and detailed information on your health so we can properly treat you and prevent medical emergencies from occurring. Your medical history is as important at a dental appointment as it is for your medical doctor and here are some of the reasons why:
– Prescription medications, vitamins & herbal supplements can have oral side effects such as dry mouth or may interact with medications our dentists need to give you
– Bacteria that is created within the mouth can easily carry through your blood stream and create an infection within the body including your heart and joints
– Diabetes can increase your risk of periodontal disease
– Blood thinners can impact the safety of certain dental procedures
– Patients that have been treated with biphosphonates past or present are at higher risk of complications during a tooth extraction
– If there is an allergy to a medication, we will know not to prescribe that to you
– Some materials we use within the office might cause allergic reactions for example, latex gloves
– Stress related emergencies such as anxiety or a previous negative dental experience can be handled with extra sensitivity and awareness
– Dental treatment during your first trimester of pregnancy can be risky
Many diseases can have significant effects on your mouth and teeth and your oral health is intricately tied to overall health. Dentistry is a part of your overall health care and your dentist is part of your health care team. Oral health has a direct link to systemic health and as health care providers we need this information to be able to treat you appropriately. So please take your time and realize we will be asking for your updates every time we see you. It's a big part of how we care for you!
Stephanie Dervishian, Dental Hygienist