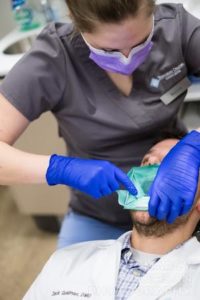 Kathleen the Dental Assistant: "Are you familiar with a rubber dam?"
The Anxious Patient: "Ugh I hate the damn dam!"
Kathleen the Dental Assistant: "Placing the dam allows us to work quicker and more efficiently by isolating just the area we are working on during your treatment. It also keeps your tongue and cheek away from our instruments. It allows us to keep the area as clean of debris and bacteria as possible, especially the removal of old amalgam fillings. Keeping the working field dry to place our bonding materials for a long lasting restoration is extremely important for longevity and sensitivity to the treated tooth/teeth."
The Anxious Patient:  "But what are the benefits of using a dental dam?
Kathleen the Dental Assistant: "The dam keeps the area where we are working dry and free of blood or saliva so when we are placing a filling the adhesive may bond efficiently, making the filling more durable. It can prevent the area from being exposed to bacteria in your saliva and oral cavity, and it eliminates the chance of any materials or chemicals falling into your mouth or being ingested during treatment.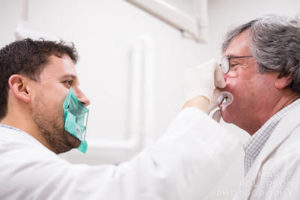 While operating on any other body part, surgeons use surgical drapes to isolate the area being treated and to prevent bacterial contamination. Likewise, dentists use a dental dam for endodontic procedures, or procedures involving the nerves, arterioles, venules, lymphatic tissue, and fibrous tissue in your mouth to isolate and protect."
The Patient: "Thank you for explaining, I feel much better now about the dam!"
The doctors and assistants at Tewksbury Dental Associates value your health and the quality of your treatment and care are our top priority. The dental dam is one more way we go above and beyond to give you the safest experience possible and the highest quality results!
Kathleen Scanlon, Dental Assistant