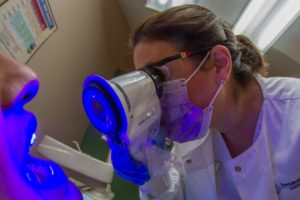 Did you know that the oral cancer survival rate is one of the highest of all types of cancer if it is detected early? The clinical team at Tewksbury Dental Associates are trained to conduct an oral cancer screening with every patient. Oral cancer can strike in a number of places including your tongue, lips, cheeks, gums, and the head and neck. The screening is a visual exam your hygienist will perform that can detect lumps, swelling, red or white patches in the mouth, or ulcerated tissue that doesn't heal.
At TDA we also use a non-invasive screening device called Velscope in addition to the visual examination. It does not actually diagnose cancer, but it helps us find abnormalities that are not visible to the naked eye. Incorporating the latest technology in detection allows us to provide our patients with the highest level of care available.
There are some ways you can improve your overall health and reduce your risk of this type of cancer. Risk factors for contracting oral cancer include the use of tobacco products and alcohol consumption. Unprotected sun exposure can increase the risk of cancer of the lips and there are even links now between the HPV virus and the contraction of oral cancer. Almost half of the oral cancer cases each year can be partially attributed to poor diet. People who enjoy a diet rich in fruits and vegetables and foods containing carotenoids, including carrots, mangoes, sweet potatoes and tomatoes, experience a significantly lower risk of all types of oral cancer. Even caffeinated coffee drinkers have a lower risk of this type of cancer!
By improving your diet, reducing risk factors and making sure you keep your regularly scheduled hygiene and dental appointments you improve your odds of avoiding oral cancer. If you haven't seen a dentist in a while please call us today and set up an appointment right away.