February is National Children's Dental Health Month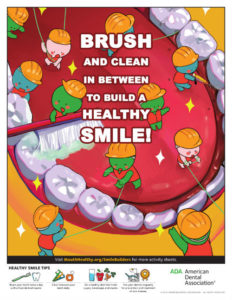 Part of our mission as dental care providers is to help people feel comfortable and knowledgeable about the important role quality oral health care plays in their overall health. At TDA we also strive to create positive relationships with patients of all ages so they will feel secure, safe, and anxiety free when they come to see us in the office. This is especially important for kids!
For the last 63 years, the American Dental Association has declared February National Children's Dental Health month. The goal is to promote the benefits of good oral health care to children and adults, parents, caregivers and teachers. Every year at this time our hygiene team and doctors put together an educational program for young kids and head out into the community to teach kids all about caring for their teeth and gums to ensure a lifetime of healthy smiles!
The American Academy of Pediatric Dentistry recommends taking children to the dentist for their first dental checkup when their first tooth appears, or before their first birthday.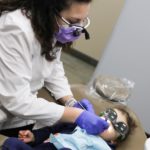 It is estimated that 40% of children ages 2 to 5 already have cavities and 4 million preschoolers suffer from tooth decay. That's an increase of more than 600,000 kids in the last decade.  Early preventive dental care, a consistent and effective home care routine, and a healthy diet can all help kids avoid these problems over their lifetime. Exposing young children to a positive caring dental care provider early in life can set patterns and habits that contribute positively to long term overall health, wellness and quality of life. Be sure to model great habits yourself, teach your kids to brush after eating, how to floss and rinse and encourage them to replace sugary drinks and foods with healthier options. Be sure to make and keep a regular schedule of hygiene maintenance exams that include a thorough cleaning at the dentist office at least twice a year. Fluoride treatments and sealants can protect your child's teeth from decay and are even recommended as a preventive measure for adults' teeth too.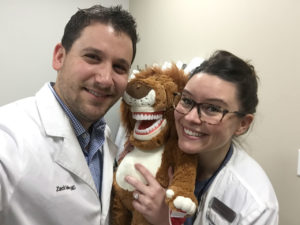 We love to bring our fun and informative dental education program out of our office and into the local schools and surrounding communities. This year we have three school visits planned in Tewksbury, Andover and Manchester NH. We cannot wait to meet the kids! We also have a new mascot, Leo the Lion. He loves to have his teeth brushed and show off his perfect smile!
Tour Dates:
2/13/19 Dr. Goldman and Christina @Loella F. Dewing Elementary School in Tewksbury, MA
2/21/19 Jen @Jewish Federation Preschool in Manchester, NH
2/27/19 Dr. Goldman and Christina @Henry C. Sanborn Elementary in Andover, MA