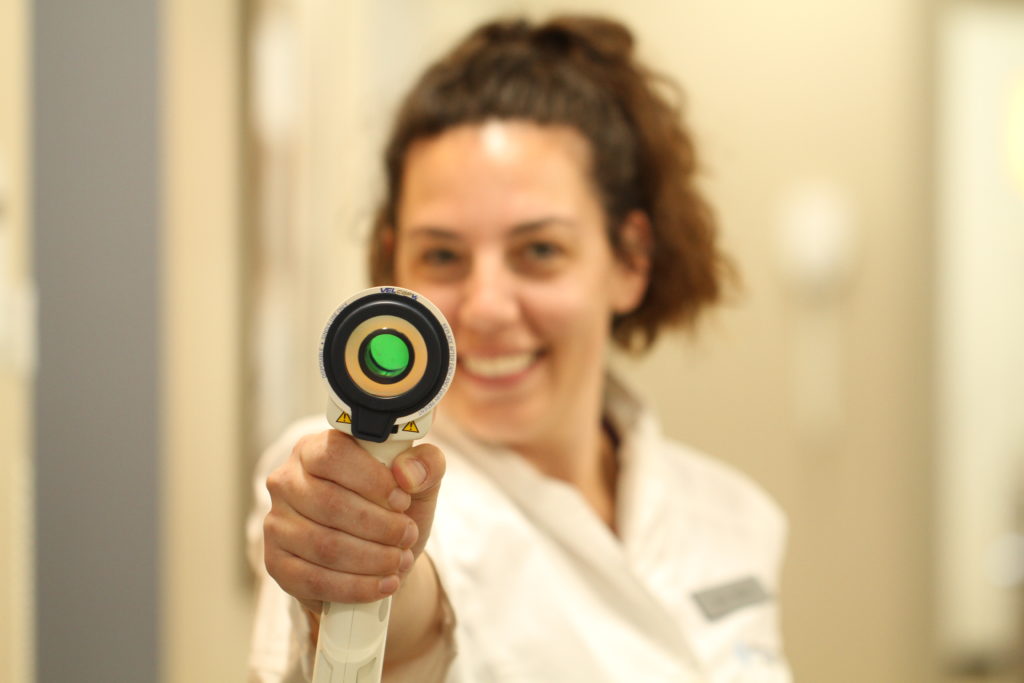 April is Oral Cancer Awareness month and at TDA we believe in the value of an oral cancer screening for our patients so much we offer complimentary VELscope screening at every new patient appointment. Our doctors and hygienists conduct visual oral cancer exams at every single hygiene visit. Early detection really is the key to combatting oral cancers. Statistics show that when discovered early the 5-year survival rate for oral cancer patients is about 83%. Unfortunately, most cases of oral cancer are discovered in late stages, when the five-year survival rate drops to around 50 percent.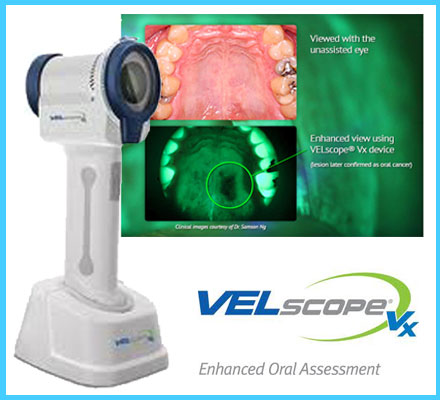 Our clinical team is trained to use the VELscope® Vx technology to enhance the quality of information we can gather in your oral mucosal examination. The VELscope is a handheld device that emits a harmless, bright blue light which is used to inspect your mouth and tongue. The device is extremely sensitive to abnormal tissue changes. The distinctive blue-spectrum light causes the soft tissue, or your oral mucosa, in your mouth to naturally fluoresce, or glow. Healthy tissues fluoresce in distinct patterns that are visibly disrupted by trauma or disease, such as neoplastic lesions, and fungal, viral or bacterial infections.
Imaging gathered from the VELscope device is extremely sensitive to tissue changes. When you maintain your recommended schedule for hygiene maintenance appointments, we can regularly monitor your mouth and tongue for changes. Early detection of oral cancers can make a huge difference in treatment options and survival rates. Your oral cancer screenings in our office provide timely information to the dentists and hygienists. The screenings enable earlier detection of abnormal tissues which could provide a better prognosis and outcome for you.
At TDA we begin the screening process with our patients at the age of 18 due to possibility of HPV. This is also an opportunity for us to educate young patients about the health risks associated with e-cigarette use, vaping and the increased possibility of oral cancer with their use. These products heavily target their marketing to teenagers. Because the industry remains unregulated they are not required to disclose any of the damaging health implications e-cigarettes and vaping raise. It is very important to us that our patients have knowledge and awareness that can help them make proactive preventative health decisions throughout their lives.
By maintaining the recommended schedule for your oral hygiene maintenance, brushing and flossing, and having the dentist review your oral cancer screenings at each appointment, you are reducing your risk of oral cancer! In April, and every month of the year, we are completely committed to offering our patients the best information we can about the signs, or their risks for oral cancer. For us, it is simply one more way we can provide a lifetime of healthy smiles.