We often comment to each around the office that we have the best patients! We value the opportunity we have to care for you and your families and are always humbled and incredibly grateful for the kind words you share about us in your reviews and comments online.
All of our hard work feels so worthwhile when we hear from you about your experiences in our practice. Our entire team at TDA strives to live by our motto "Passion for Dentistry, Compassion for People" every day and we wanted to share a few of your reviews that demonstrate how we are living up to those words.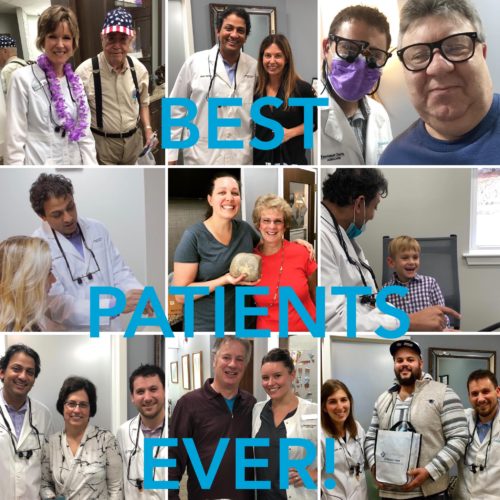 "The entire staff at Tewksbury Dental Associates is nothing short of amazing. From the second you walk through the door, they make you feel like family. They've changed the way I view dental offices, my smile and have made a huge impact on my life!
I had a traumatic experience years ago that kept me away from the dentist for way too long, but the staff here keep me coming back- I joke with them that I see them once a week now.
Dr. Nahata is phenomenal at what he does- he was there to fix a tooth the first time I went back to the dentist and he's been my dentist ever since.
Steph, my hygienist, got me back on track to a healthy smile. She is super thorough, she takes pride in her work, and she doesn't care how long it takes to get the job done right- her work ethic shows every time I have a hygiene appointment. Not to mention we are "TDA friends"- I actually look forward to my cleanings now.
Dr. Nahata has worked with me for years in improving my smile, and he recently put me in temps in preparation for veneers. The results are already phenomenal- he really is a miracle worker.
He's personable, detail-oriented, and talented, and a bit of a perfectionist- not a bad thing for a dentist. He made sure I was completely happy with my results before moving on.
I actually cried when I saw my reflection after my temporary veneers. He has already immensely changed the way I feel about my smile, I can't wait for the final product!
My dental assistant Keri is also one of the only people I trust with dental procedures. She truly cares about her patients and will do whatever it takes to make sure they are comfortable.
She even went as far as giving me her personal cell phone number to call if I had questions or concerns. I am so grateful that I've had Keri to walk me through every step of this process because I don't think I could've gone through it without her!
Okay- this is a long review, but I really can't say enough about this place. Everyone- and I mean EVERYONE, from the front desk staff (Laurie- who greets not only me but everyone by name as they walk in) to the financial assistants- is amazing. They go above and beyond and it truly shows. You guys are the best!!"
Lauren, June 19, 2019
"Due to medical issues and lack of dental insurance for some time, my teeth weren't in great shape. I've never been comfortable with dental appointments but the staff at TDA have made a huge difference, everyone there is so kind and caring.
I definitely recommend them if you struggle with anxiety regarding dental visits. They do absolutely everything they can to help you feel at ease. "
Casey, May 1, 2019
"As a dentist myself I drove specifically to Dr. Goldman when I needed some bonding on my front teeth. He's passionate about the care he provides and up to date on the latest advances in the field!"
Courtney, February, 2019
"Everyone is so compassionate and understanding. Dr Cenami and Dr. Curtis are extremely gentle and very skilled. Bernie assisted with a procedure and was also compassionate and knowledgeable.
I recommend Tewksbury Dental to everyone I know! Overall always a great experience!"
Jeanne, April 2019
Thanks to all of you for taking the time to leave reviews and for recommending us to your friends and family members. The best part of our job is having patients like you in our TDA family!