As we all navigate our lives in this unprecedented health crisis brought on by the Corona Virus pandemic, there are common-sense things we can do to improve our chances of avoiding the virus. Please help prevent the spread of COVID-19 by:
Avoid touching your eyes, nose, and mouth
Avoid close contact with people who are sick
Wash your hands frequently with soap and water for a minimum of 20 seconds, or use alcohol-based hand sanitizers
Stay home if you have flu-like symptoms
Practice social distancing
Work from home if you can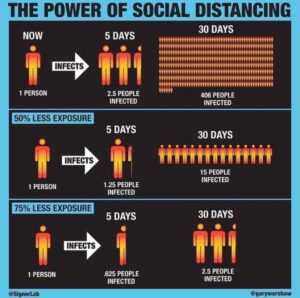 We have closed the office temporarily to help "flatten the curve" and have some additional healthy recommendations for you to follow. During the Covid 19 quarantine be sure to focus some extra attention on your oral health care.
Oral health is essential to general health and well-being at every stage of life. Without access to regular hygiene care at the dentist during this time period, you will need to be extra vigilant with your home care routines and habits!
Brush and floss after every meal especially after enjoying rich desserts
Bump up your water intake to help rebalance your mouth's PH and minimize oral bacteria growth
Limit snacking to allow your saliva to neutralize acid and work on restoring enamel
Chew sugar-free gum
Sip beverages through a straw to help minimize acid contact with your teeth
A healthy mouth allows you to eat a nutritious diet with adequate fiber, fruits, vegetables, and whole grains. A healthy smile can even enhance social interactions, improve self-esteem, and feelings of well-being.
Your mouth is a "window" to the rest of your body, providing signals of general health disorders. Pale and bleeding gums can be a marker for blood disorders, bone loss in the lower jaw can be an early indicator of osteoporosis or bone loss, and changes in the appearance of teeth can indicate bulimia or anorexia.
Bacteria in your mouth can cause infections in other parts of your body, may complicate diabetes, and contribute to heart disease and stroke.
As dental professionals, we understand the link between dental and general health. Our TDA team is here to help maintain optimal oral health care by identifying proper home care routines, introducing preventative measures through regular hygiene maintenance appointments, screening for cancer and managing periodontal disease.
Periodontal disease has been associated with a number of systemic conditions. Once you are diagnosed with the condition it is a chronic disease that can be managed, but not cured.
The integral relationship between mouth and body underscores the importance of committing to a preventative oral health plan that will give you the very best outcome!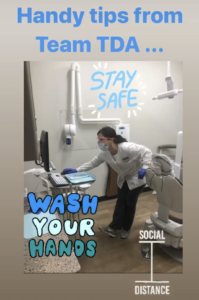 Focusing on things we can do and ways we can help family members during this unsettling situation can make it feel less scary. Take this opportunity to commit to improving how you care for your teeth and gums at home.
Grab new toothbrushes for everyone in the house next time you're out and be sure you have a nice supply of toothpaste and floss on hand. Remember we are here for emergencies and look forward to seeing you in the office the minute the danger has passed.
Be safe, practice social distancing, stay healthy and we can't wait to see your TDA smile again soon!
Dr. Nahata and Team TDA