According to the Centers for Disease Control and Prevention, more than one-third of Americans haven't seen a dentist in more than a year. The American Dental Association discovered that of those people, 40% stated they didn't see a dentist in the past year because of cost. As dental care providers, we are committed in our practice to making sure all of our patients have access to treatment they need to be healthy, even when they have lost their dental insurance, benefits have changed, or they have never had any coverage in the first place.
We Have a NEW Plan!
Our new dental membership plan makes the dental care you and your family need more affordable! We know that patients who do not have dental benefits are more likely to suffer from other health issues, including heart disease and diabetes. Helping patients who may have been impacted by the current unemployment situation brought on by the pandemic is important to us. We are committed to helping people who may, for whatever reason, avoid going for years without proper dental care due to a lack of insurance coverage.
By offering the plan directly to you, we remove the cost and hassle of a middleman. We keep it simple, pass the savings to you, and focus on your oral care!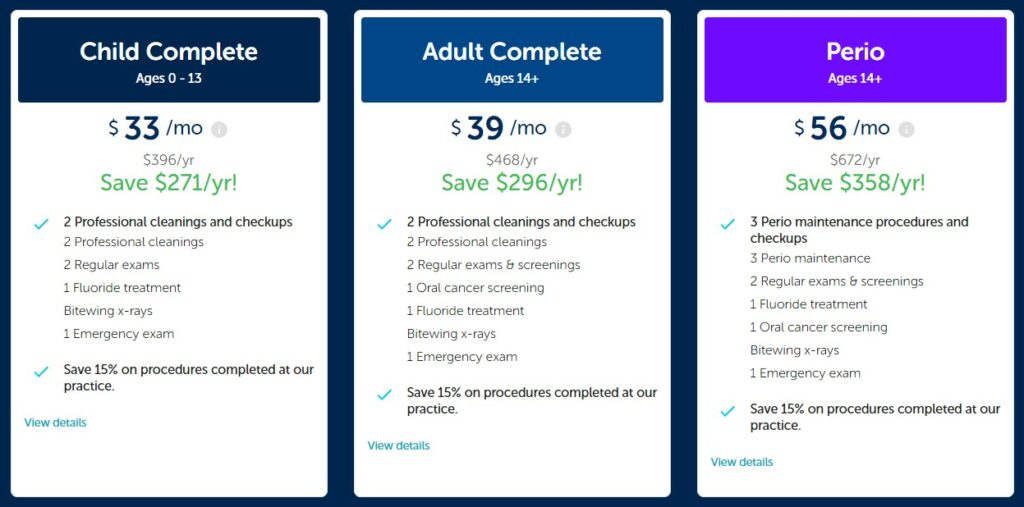 The Basics
The new TDA Membership Plan is designed to improve affordability and access to care. You pay a monthly, or annual fee for your standard and recommended preventive care. There are also discounts for restorative treatments such as root canals, crowns and fillings. The plan is offered directly through our practice, so there is no need to submit any insurance claims, or wait for pre-authorizations. We have specifically developed the TDA in-office membership plan to fit the needs of our patients. There is a Child Complete plan, and two Adult Complete plan options that include fluoride treatment, oral cancer screening, routine x-rays and exams, and either two, or three dental hygiene cleanings depending on your unique care needs.
The Benefits
At TDA we created the membership plans to remove any barriers that may keep people from accessing dental care. We believe that everyone deserves access to high-quality dentistry regardless of their budget, or insurance status. If you are uninsured you don't need to worry anymore! The plans are straightforward and transparent about cost. There are no more barriers standing between you and your care. Patients with our membership plans have black-and-white information about what is covered in their plan. We hope the new plans will make it easier for you to afford to invest in your health and the health of your family!
Ask Us About Joining
Our team is ready to review the options with you and help you decide what plan may be right for you! We welcome new patients without insurance who are looking for high quality dental care. We also encourage our TDA patients without insurance to review the plans as well. Visit the Membership page on our website to learn more, or give us a call. We are here to help!