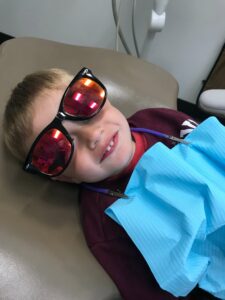 Regular Checkups!
Your child should see us every 6 months for a routine cleaning and checkup. Regular cleanings can help remove the plaque buildup that leads to cavities. During the checkup, we also take x-rays to scan for any developing issues. If we catch problem areas in their early stages, treatment can help prevent any lasting or severe issues.
We Recommend Fluoride and Sealants Treatment for Kids
Fluoride is a naturally-occurring mineral that helps strengthen tooth enamel. The application of fluoride treatments to your child's teeth can help prevent tooth decay and cavities. Depending on your child's needs, they can receive two to four treatments per year. Children can start receiving fluoride treatments as soon as their first tooth erupts.
Sealants form a thin, clear barrier into and over nooks and crevices of teeth to prevent food debris from getting in and causing decay. We can show you how sealants work at your next appointment and discuss whether they are a good protection option for your child's teeth.
Airway and Pediatric Breathing Disorders
In addition to a traditional dental health exam, we have added an important new airway evaluation to your child's exam in our office as well. If your child snores on a regular basis, is an open mouth-breather, or has chronic bad breath, he or she may be experiencing obstructed airway disorder. Many times, we find that children who are struggling with school, or have problems concentrating are actually suffering from poor breathing causing by a blocked, or obstructed airway. Common symptoms can include: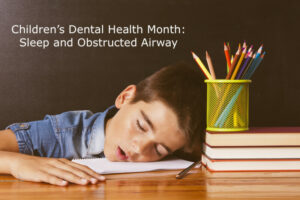 Snoring
Mouth-breathing
Poor school performance
Daytime drowsiness
Severe allergies
Nighttime teeth grinding
Obstructed pediatric airways can be caused by the alterations or restrictions in the rapid growth and facial changes that children experience as they grow. As permanent teeth gradually replace baby teeth and the jaw develops, the roof of the mouth expands.
These changes can result in a correct profile and open airway that allows for proper breathing. But all too often, the growing child's facial structure may not form properly, causing an obstructed airway that can lead to serious, long-term health problems.
Teeth grinding, also known as bruxism, and mouth breathing are two of the most dangerous symptoms of a blocked airway. If mouth breathing is the regular way your child breathes, it can cause the mouth to develop abnormally. Additionally, teeth grinding can cause permanent damage to tooth enamel and the jaw joints and facial muscles.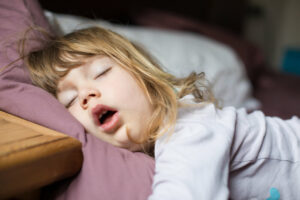 Obstructed pediatric airway may be caused by the following:
Allergies
Crowding in the mouth
Large tongue
Tongue tie
Thumb sucking/pacifier use beyond 18 months
Enlarged tonsils and adenoids
Undiagnosed allergies can cause excessive mucus buildup in the nose which leads to mouth-breathing. Sometimes the soft tissue in the mouth falls back into the throat, blocking the child's airway while they sleep.
Make an Appointment for Your Child Today
If you suspect your child may be suffering from an obstructed airway, make an appointment today. An obstructed airway can impact your child's quality of life considerably, and lead to a lifetime of serious health issues in adulthood. The sooner they can get a proper diagnosis and the treatment they might need, the better!
Dr. Goldman and the TDA Team