April is National Oral Cancer Awareness Month and this year we really want to make an extra effort to be sure our patients are educated and informed about this often overlooked type of cancer. Did you know 30,000 Americans contract oral cancer each year? Because this cancer frequently goes undetected, only 57% of these people will live for more than five years without treatment.
Many people believe that if they do not use tobacco or alcohol, they are relatively safe from contracting oral cancer. While tobacco and alcohol use can increase your risk of oral cancer; 25% of people diagnosed abstain from both substances. In fact, according to the Oral Cancer Foundation, the fastest-growing segment of oral cancer patients is young, healthy, nonsmoking individuals due to the connection to the HPV virus. The best way to keep yourself protected from oral cancer is to get an annual oral cancer screening. Part of the patient preventive care plan here in our office includes an oral cancer exam each year during your regularly scheduled dental hygiene appointments with us.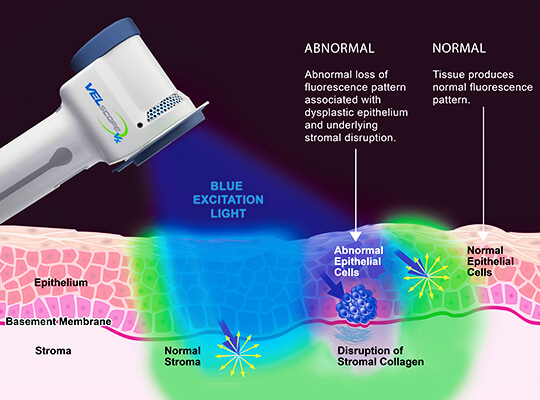 Our hygiene team is trained to use VELscope® technology during your screening. This examination tool helps detect oral cancer in its earliest stages. The VELscope® is a blue excitation lamp that highlights precancerous and cancerous cell changes. By using the bright blue light to examine the inside of your mouth, changes and lesions that would otherwise be invisible to the naked eye are exposed. The healthy soft tissue in your mouth naturally absorbs the VELscope® frequency of blue light. Healthy areas beneath the surface of the soft tissue show up green and the problem areas become much darker.
Benefits of the VELscope® in Our Practice
Can be combined with digital photography
Detects lesions, white and red patches
Detects problem areas that cannot be seen under white light
Exposes precancerous and cancerous tissue
FDA-approved
Helps diagnose oral cancer in its earliest stages, exponentially increasing the chance of survival
Quick, painless examinations
Your TDA Annual Oral Cancer Screening Exam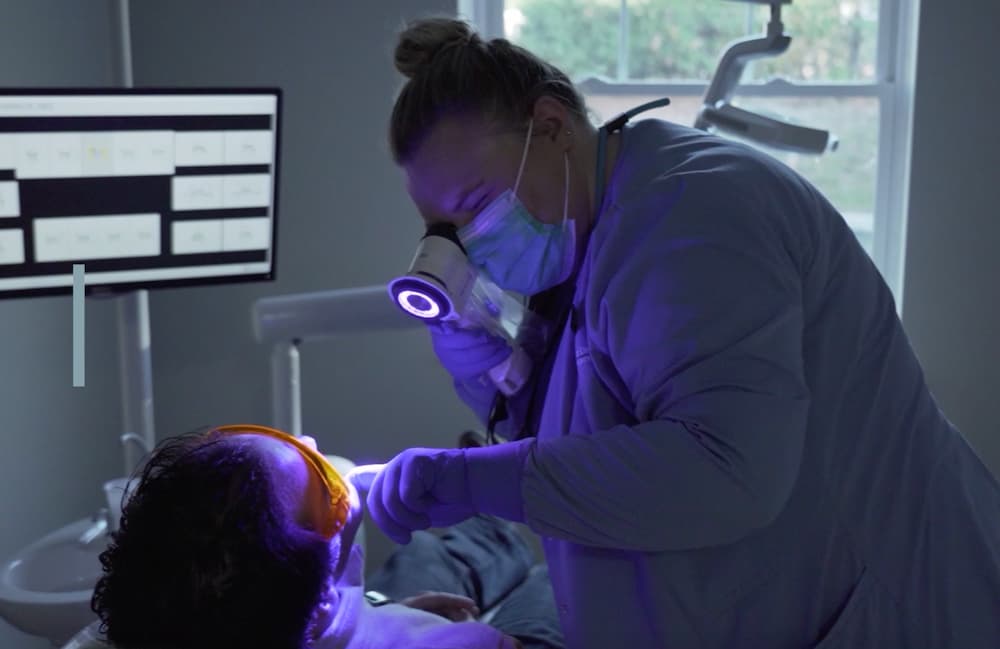 Our VELscope® examination only takes two or three minutes. It is a painless and noninvasive procedure that saves many lives every single year. Your hygienist provides special eyewear to protect the integrity of the retinas. The lights in the room are dimmed to allow a clear view of the oral cavity. The VELscope® is a small hand held device and is bent to project blue light inside the mouth. Lesions and other indicators of oral cancer are easily noticeable because they appear much darker under the specialized light. The dentist will then perform a comprehensive visual examination of the whole lower face. This includes the glands, tongue, cheeks and palate as well as the teeth. Your oral cancer screening with us is a painless and noninvasive procedure that can potentially save lives every single year.
If you have any questions or concerns about oral cancer screening or the VELscope® system, be sure to ask your hygienist about it at your next appointment. If you are overdue for a regular hygiene appointment with us we recommend you call the office so we can get you scheduled!