It has been another incredible year in our office. In 2021 we expanded services and added new technology including Itero digital scanning equipment and a Formlabs 3D printer. Annual wellness scanning has advanced our preventive diagnostic capabilities. The 3D printing system now operating right here in our own lab has improved the quality, and increased the speed with which we can offer customized dental appliances, produce impression models from digital scans, and printed surgical guides. It's been exciting to watch our dental sleep consultations dramatically increase this year as well. We are now able to offer solutions and treatment to help patients diagnosed with sleep apnea get better quality sleep with customized dental appliances.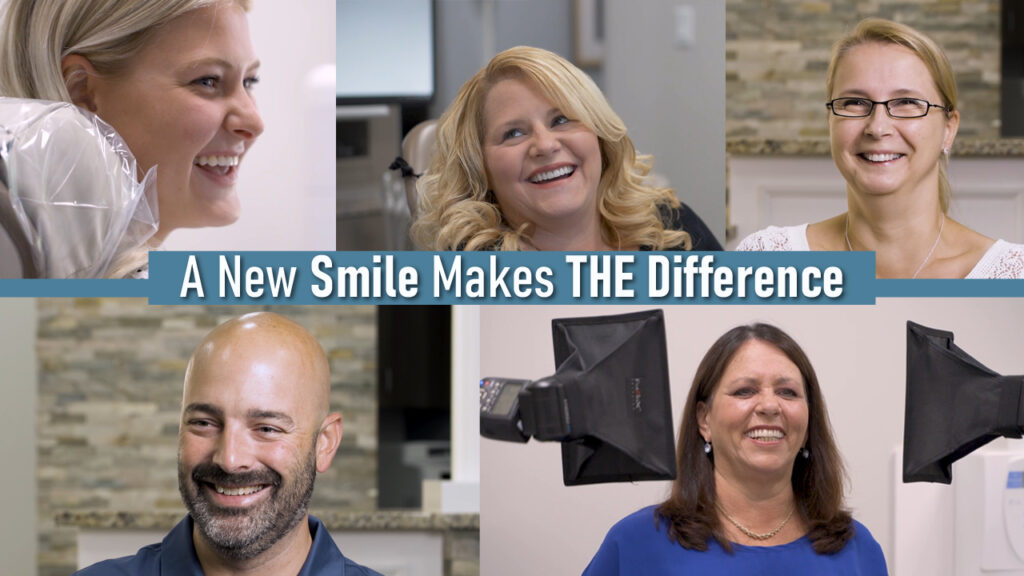 Helping our patients maintain excellent oral health while achieving their ultimate smile goals is a priority in our practice. In 2021 we saw more TDA patients than ever before choosing to align their smiles with Invisalign clear aligners and successfully and conveniently retaining the results with the Vivera clear retainer system. Feeling the trust patients have in our doctors and the team when they are investing in their smiles is humbling, and seeing them so happy with the results is one of the most rewarding parts of being dental care providers.
As most of you already know, our office is so proud to be a member of the Tewksbury community! This past year, while we all continued to feel the effects of the COVID-19 pandemic together, we remained committed to safely providing our patients with the most advanced dental care possible as well as giving back to those in need in our community. Back in January we decided to have a theme for the year and called it: "TDA Gives Back." We are so grateful to have had the opportunity to support and sponsor these charities and events.
The TDA 2021 "Giving Back" Birthday Donation Project: On their birthday this year, each TDA team member picked a charity to fundraise for, starting with a donation from TDA. The charities our team members chose to fundraise for were just as individual and amazing as they are.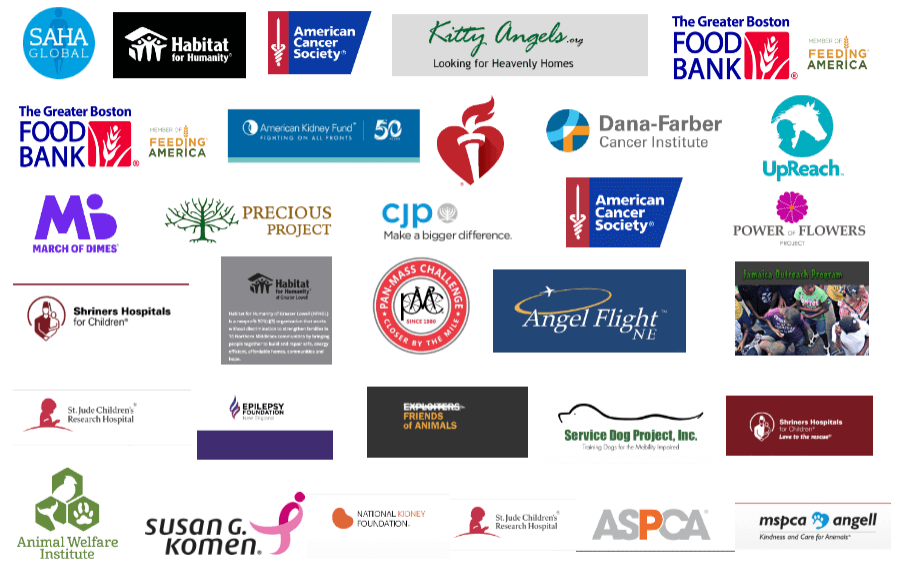 We became proud sponsors and members of 100 People Who Care – Tewksbury. In June, TDA team members attended a giving circle event which raised money for local charities. This organization holds events four times a year to raise funds that go directly to the charities being sponsored, which include community groups like Tewksbury Home Build, the Friends of the Tewksbury Library, and the Tewksbury Community Pantry.
In August, TDA were community sponsors of the Tyngsborough Recreation and Park Block Party by the Bridge. We sponsored the beloved "Ride the Shark" attraction which was very popular with the kids at the event. Our team shared our iTero wellness scan technology and offered free smile makeover evaluations at the booth. Meeting new people, hearing their smile stories, and welcoming them to join our dental family was the highlight of the day.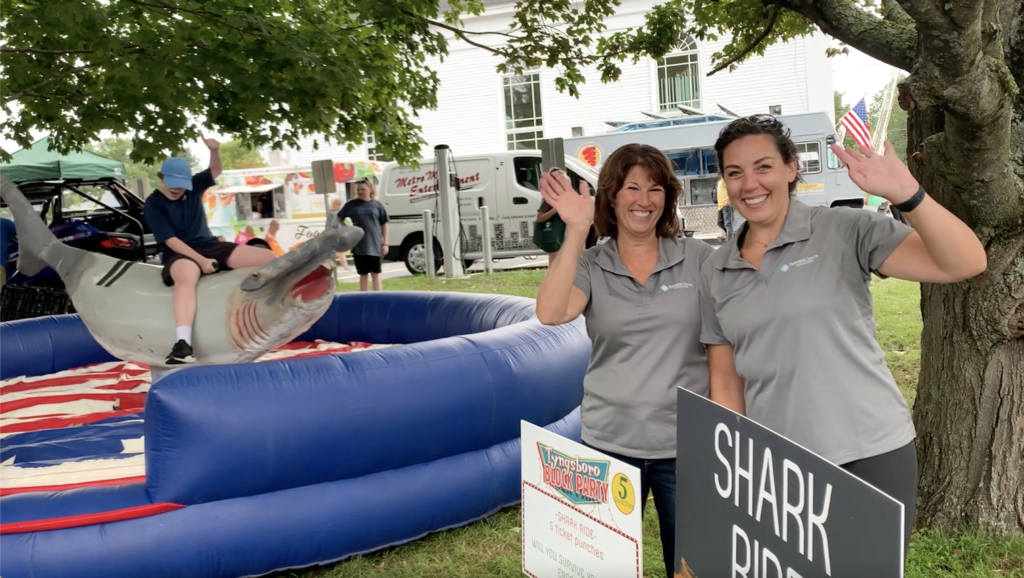 In November, we sponsored our annual office food drive for the Tewksbury Community Pantry. We were overwhelmed by the generosity of our team and patients. It was so rewarding to bring a whole SUV's worth of non-perishable food to the pantry just in time for the Thanksgiving holiday.
Finally, in December we rounded out the year of giving back by contributing a TDA dentally decorated tree to The Festival of Trees fundraiser in Tyngsborough. The trees were raffled off as a fundraiser for the community and some lucky winner now has a lifetime supply of brushes and flossers!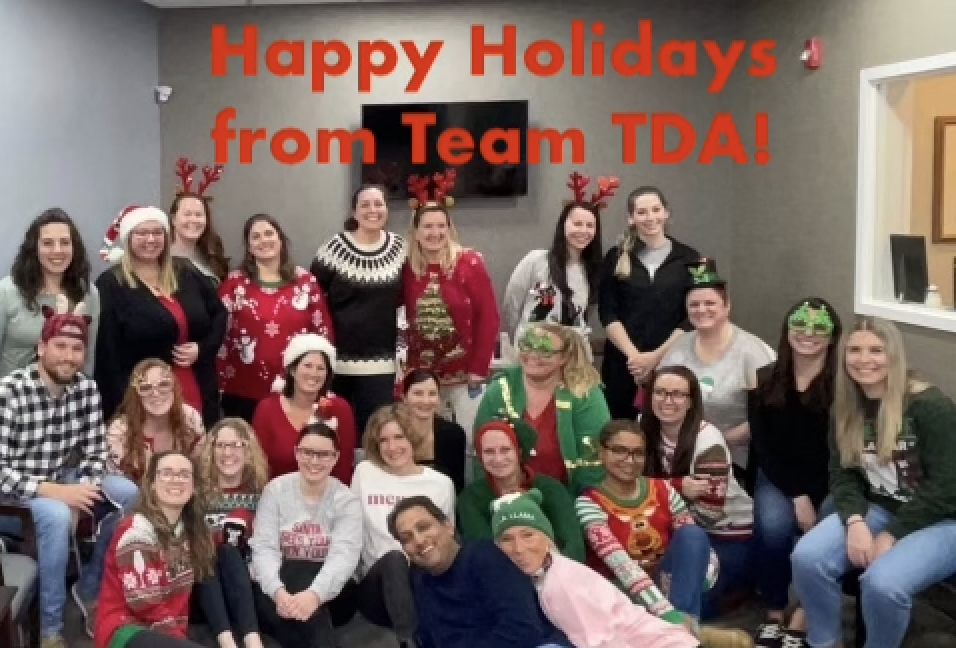 As we look forward to 2022, TDA remains committed to continuing the compassionate care we offer our dental patients as well as continuing to be a strong supporter of the community we love. As the past two years have shown, it can be hard to predict what is to come, but no matter what does, TDA will be here for our patients, both old and new. We look forward to seeing you all in 2022 and wish you and your loved ones a happy, healthy 2022!