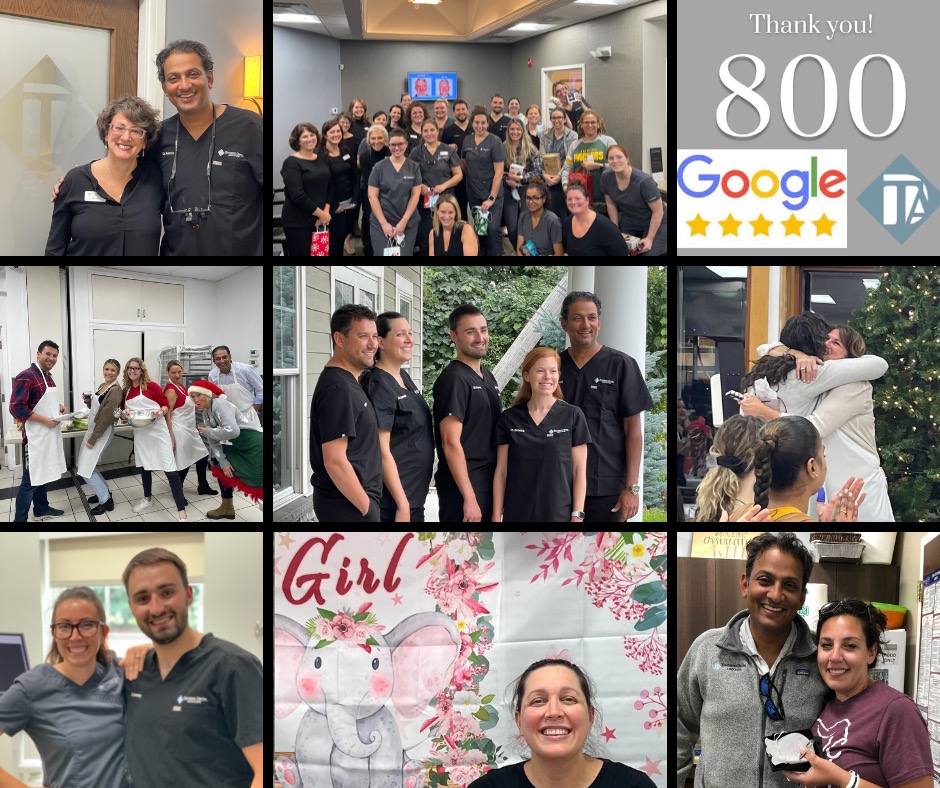 2022 has been quite a year at Tewksbury Dental Associates! As we wrap up the year this week, here are just some of the amazing highlights:
In July, Dr. Luke Devaney joined the TDA team! Dr. Devaney is a third-generation dentist from New Hampshire. He graduated from Providence College with a degree in Biology and earned his doctorate degree in dental medicine from Tufts University School of Dental Medicine. Following dental school, he completed a one-year Advanced Education in General Dentistry residency through NYU Langone in Worcester, MA. He is a member of the American Dental Association, Massachusetts Dental Society and the Academy of General Dentistry. Dr. Devaney is committed to providing excellent patient care and enjoys treating patients of all ages. We were excited to have him join TDA and he has already become an invaluable member of the TDA team.
We also welcomed two new members to the TDA team: Kerrie-Ann at our front desk and Melina to our dental assistant crew. Their addition to the TDA team means more efficient patient care when you come in for your dental appointments.
This year was a year of milestones for our amazing team. We celebrated dental hygienist Siobhan's five-year anniversary and the ten-year anniversaries of patient care expert Megan, and hygienist and clinical manager Jen. We feel so lucky to have these knowledgeable and caring women as part of the TDA team. Their years of dedication help us to give our patients the highest quality dental care and the most positive experience possible at the office.
Dr. Cenami added the youngest new member of the TDA team when she gave birth to a beautiful baby girl in November. All of us at TDA wish Dr. Cenami and her husband many years of happiness with their new little one.
In June, we celebrated all of our team with the TDA PLP (Parking Lot Party). While the PLP started as a result of COVID restrictions, it has become an annual event we all look forward to. This year's party was our best yet and included axe throwing with Axe Play, dancing to our favorite hype songs, and delicious food from the Melt food truck!
Our celebration of the team continued in December when we held our Holiday Party Cooking Class at the Cambridge School of Culinary Arts! The team had a blast as they came together to up their home cooking game and learned how to make some amazing new dishes. They say a team that cooks together, works amazingly together…
We always appreciate it when our patients take time to leave us a Google review. Thanks to our wonderful patients and their kind words, we hit the 800 Google 5-Star review mark in 2022! In letting us hear exactly what they think about their TDA experience, our patient's Google reviews ensure we are giving them the best possible dental experience with the best possible outcomes.
And finally, the year 2022 saw the debut of the TDA TikTok channel: @tda_smiles. Our Tik Tok channel allows us to show the more creative, playful side of the TDA team and we hope you will check it out the next time you are scrolling through TikTok!
From new team members to team celebrations to our debut on TikTok, we are excited to enter 2023 with our amazing team, ready to provide our patients, both new and returning, with the passion for dentistry and compassion for people they have come to expect at TDA. We are always welcoming new patients, so if you are looking for the best dental care in around in 2023 and beyond, contact our office today!