Gum disease is one of the most common dental conditions and it affects millions of Americans each year. According to the Centers for Disease Control and Prevention (CDC), almost half of adults over thirty in the US have some form of gum disease. If left untreated, gum disease can develop into more serious periodontal disease. Periodontal disease in turn, can lead in the potential for more serious oral health issues that include: gum recession, shifting teeth, and even tooth loss.
AT TDA, we check for the signs of gum disease at every regular hygiene maintenance visit. Signs that you may be developing gum disease include tender or bleeding gums, increased sensitivity to hot and cold foods or foods which are high in sugar, and bad breath that does not go away even after you brush your teeth.
While gum disease is a chronic condition, when caught in its early stages, it can effectively be controlled by taking preventative measures. In our latest video, hygienist Christina and patient Ian talk about what TDA can do to both diagnose and treat gum disease.
When Ian came in for his latest hygiene maintenance visit, Christina identified some of the tell-tale signs of gum disease. She says she noticed that Ian had inflammation of his gum tissue, some bleeding, as well as visible bacterial buildup above and below the gumline.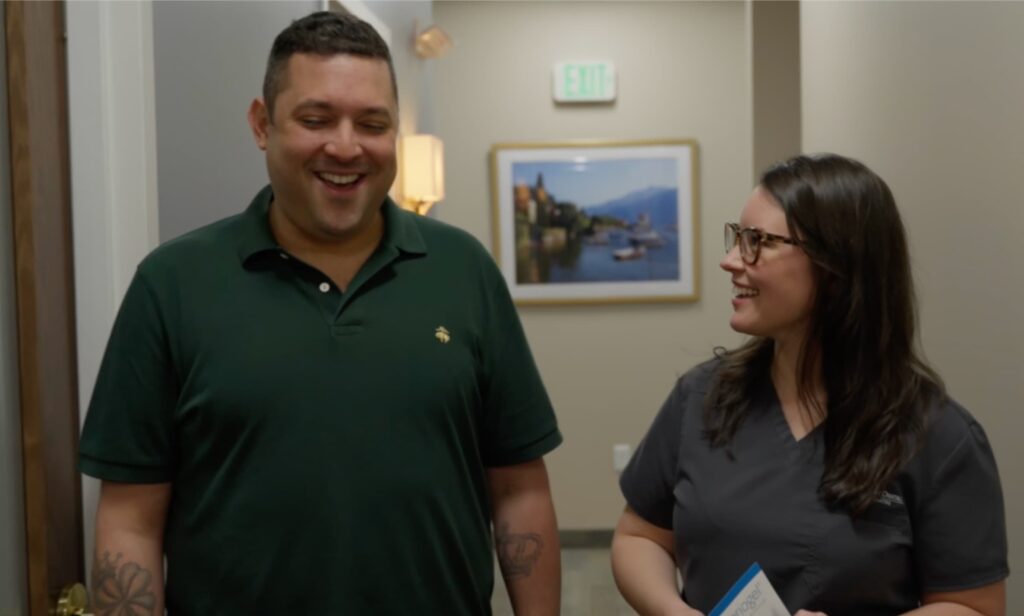 After a professional cleaning, the first step in Ian's gum disease treatment was a discussion about what he could do to treat the gum inflammation and bleeding. He and Christina talked about the importance of thorough home brushing, routine flossing, using a water flosser like the ones make by WaterPik, and the use of special periodontal trays.
At TDA, we offer Perio Protect periodontal trays to both treat the early stages of gum disease and to prevent more serious periodontal disease. Custom Perio Protect trays are created right in our office, ensuring an accurate fit for optimal treatment benefits.
Patients diagnosed with gum disease, like Ian, use the Perio Protect trays, along with specially formulated gel at home as part of their daily oral health care regimen. With regular use, the medicated gel is able to reach deep under the gum line, targeting disease-causing bacteria missed by even the most thorough brushing and flossing.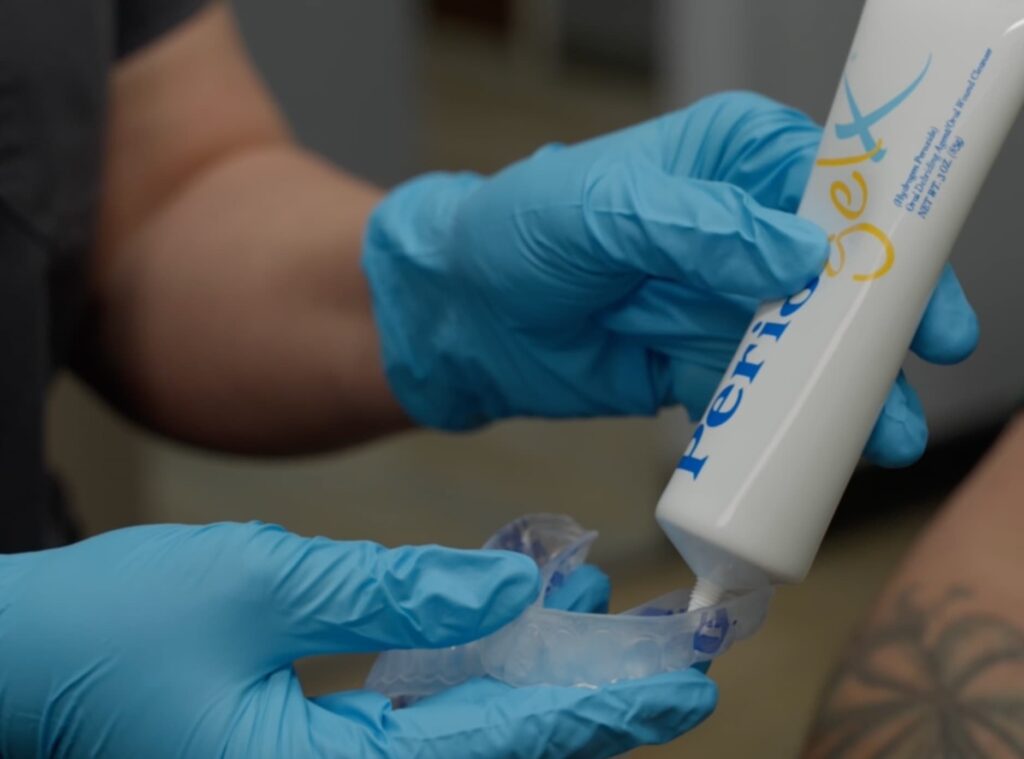 With the help and guidance given by Christina, Ian reports that he now regularly uses the periodontal trays as well as a recommended electric toothbrush and a new flossing system to control his gum disease.
He credits TDA for putting him on the right path for better oral health. Ian says, "It's nice to have the feedback and knowledge from someone like Christina when I come into the office." Better yet, with the comprehensive periodontal treatment plan from TDA, he says he feels like he gets "a better report card with each visit!" 
Ian, like many other patients with some stage of gum disease, benefits from more frequent hygiene maintenance visits, which include professional cleanings. Generally, it is recommended that patients with gum disease come in quarterly to ensure that any bacteria or built-up plaque is removed before it can affect already compromised gums.
At TDA, our hygienists, doctors, and periodontal specialist all have the knowledge and experience to provide effective treatment to our patients who have been diagnosed with gum disease. With regular hygiene maintenance visits, gum disease can be diagnosed early and treated to protect the health of your gums and the appearance of your beautiful smile!