At Tewksbury Dental Associates we are proud to provide our patients with the highest quality and most advanced general, cosmetic, and specialty dental treatment available. We are a multispecialty practice which means that our specialists, including a periodontist and an endodontist, work together with the general dentists conveniently right here in our office. TDA patients can schedule all of their recommended care in our Tewksbury location. Collaboration in treatment planning ensures a seamless, worry-free experience!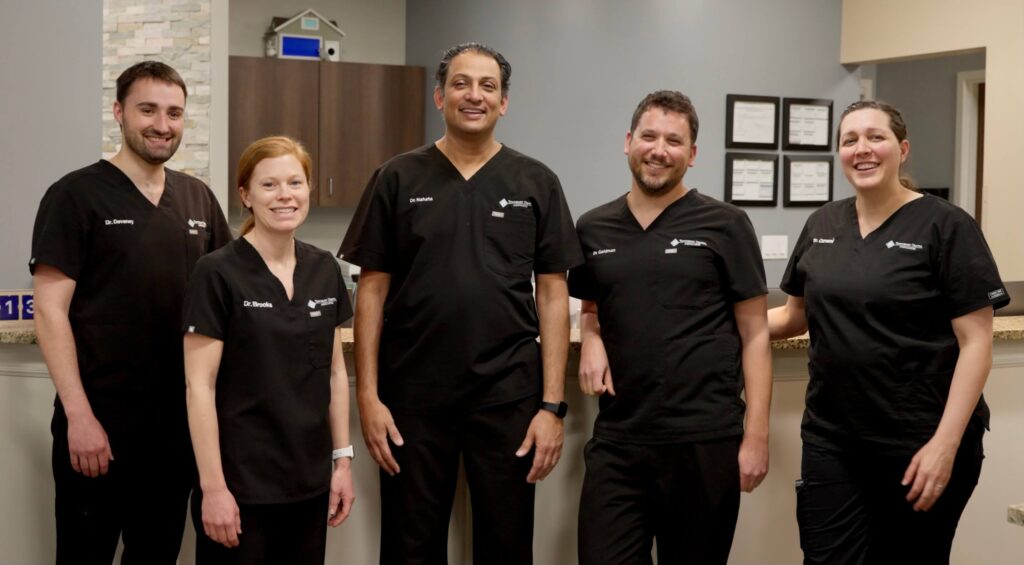 Here are just six of the many advantages of choosing a multispecialty dental practice for your dental care:
Comprehensive Dental Care: A multispecialty dental practice brings together different dental specialists under one roof, allowing you to receive comprehensive dental care at a single location. A multispecialty dental practice saves you time and effort by eliminating the need for you to visit multiple practices for different dental needs.
Collaboration And Coordination: Our multispecialty dental practice enables collaboration and coordination among all of our dental specialists. If a patient requires treatment involving multiple specialties, such as an endodontist and a general dentist, we can work together to create a custom treatment plan. This collaborative approach means our patients receive more effective and efficient dental care.
Access To Diverse Expertise: Our multispecialty dental practice typically has a range of dental specialists, including general dentists, cosmetic dentists, a periodontist, and an endodontist. This diverse pool of expertise ensures that our patients can receive specialized care for all their dental needs. It also allows for prompt referrals within the practice if a patient requires specialized consultation.
Enhanced Convenience for Patients: With a multispecialty dental practice, our patients can have all of their dental needs met in a single convenient location. You can even schedule appointments with different specialists on the same day, reducing the number of visits and saving you time. Enhanced convenience is particularly beneficial for our patients with busy family and work schedules or those patients who may have difficulty traveling to multiple offices for dental care.
Improved Continuity of Care: As a multispecialty dental practice, all of our patient records and treatment plans are centralized providing you with better continuity of care. Specialists within the practice can easily access and review your comprehensive dental history, making it easier to coordinate treatment in all dental specialties.
Better Treatment Outcomes: At TDA, our multiple specialists work closely together, creating opportunities to engage in peer review, case discussions, and knowledge sharing, which ultimately enhances the overall quality of the treatments we offer to our patients.
Whether you need basic dental care for your whole family; are looking to enhance your smile with cosmetic dentistry; or need to preserve your dental health with gum disease treatment or a root canal, as a multispecialty practice, TDA can provide all the quality dental care you might need all at one convenient location!
If you are looking for a multispecialty dental practice that can meet all of your oral health needs, call our office today to schedule an appointment!